Men's Fashion and Style: How can I follow men's fashion?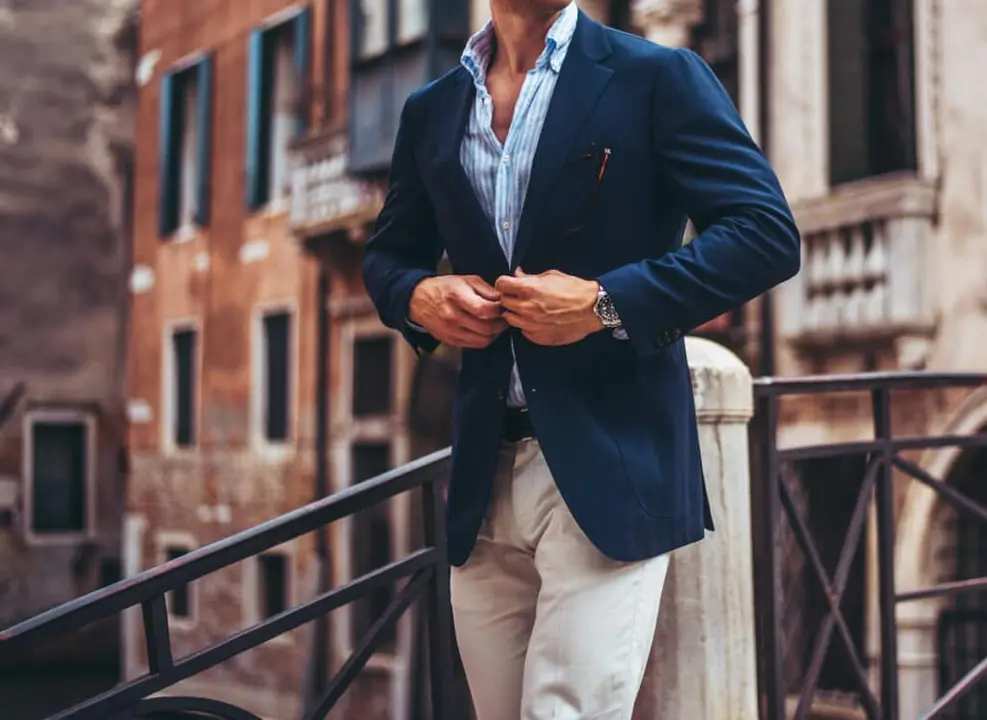 Men's Fashion and Style: How Can I Follow Men's Fashion?
It can be intimidating to try to keep up with men's fashion trends. With so many different styles and looks popping up each season, it can be difficult to stay ahead of the curve. Fortunately, there are some top tips that fashion-savvy men can use to stay on top of the latest trends.
What Are the Top 5 Trends in Men's Fashion for 2021?
1. Athleisure: Athleisure has been an increasingly popular trend for men's fashion for a few years now and it looks like it is here to stay. This trend is all about taking the comfort and style of athletic wear and making it more suitable for everyday wear. Think joggers, tracksuits, and sneakers combined with fitted shirts and blazers.
2. Vintage: Vintage is making a big comeback in 2021. Think classic denim, corduroy, and tweed. Men's fashion trends this year will also incorporate chunky sneakers, polo shirts, and puffers. Look for inspiration from the 70's and 80's for a retro vibe.
3. Colorblocking: Colorblocking is a trend that has been around for a while but is making a big comeback in 2021. This trend is all about combining colors and patterns to create a bold look. Bright colors, such as red, yellow, and blue, are popular choices for colorblocking. For a more subtle take on colorblocking, choose colors that are close in hue.
4. Suits: Suits are always a great option for formal occasions, but they are also being seen more on the street this year. The key to nailing the suit trend is to choose a slim-fit and make sure it fits you well. A tailored suit will always look more stylish than one that is ill-fitting.
5. Layering: Layering is a great way to add texture and dimension to an outfit. Start with a basic outfit – such as a white t-shirt, jeans, and a blazer – and layer on a cardigan, scarf, or even a bold print shirt. This trend is all about experimenting with different textures, colors, and shapes to create a unique look.
By keeping up with the top trends in men's fashion, you can easily stay ahead of the curve and look fashionable all year round. Whether you prefer classic, vintage, or modern looks, there is something for everyone. With a few simple tips and tricks, you can be sure to look your best no matter the occasion.
How to Dress Sharp and Fashionable on a Budget
For men, dressing sharp and fashionable doesn't mean breaking the bank. With a few simple tips, you can look stylish and sophisticated, all while staying within your budget.
Choose Quality Over Quantity
Invest in timeless pieces that are high quality and will stand the test of time. A well-crafted dress shirt might cost more upfront, but it will last longer and look better than a cheaper shirt that will need to be replaced more frequently. The same goes for shoes and other accessories.
Buy Versatile Pieces
When building your wardrobe, look for items that can be dressed up or down, depending on the occasion. A navy blazer can be worn to the office, or dressed down with a pair of jeans and sneakers. Investing in pieces that can be worn multiple ways will help you get the most out of your wardrobe.
Accessorize with Discretion
Accessories such as ties, pocket squares, or watches can add a lot of personality to an outfit, but be sure to keep it minimal. Too many accessories can make you look like a cluttered mess. Pick a few signature pieces that you can mix and match with different outfits.
Don't Shy Away from Trends
Staying fashionable on a budget doesn't mean you need to be a trendsetter. Instead, focus on classic styles and incorporate trends in small doses. For example, if you're looking for a new pair of jeans, go for a classic style but look for a wash or color that is a bit more on-trend.
Shop the Sales
Take advantage of sales for seasonal items like coats, jackets, and sweaters. You can also find great deals on other items like shirts, ties, and shoes. By shopping the sales, you can stock up on wardrobe essentials while staying within your budget.
Try DIY Projects
If you have some basic sewing skills, you can take old items of clothing and give them a new life. For example, you can turn an old t-shirt into a stylish tank top, or take a pair of jeans and give them a distressed look with a few snips of the scissors. DIY projects can be a great way to save money while still looking fashionable.
Stay Informed
Stay up to date on the latest trends by reading fashion blogs and magazines, and following influencers on social media. You don't need to follow every trend, but it's good to know what's out there so you can incorporate it into your wardrobe in a more subtle way.
By following these tips, you can look fashionable and stylish without breaking the bank. Remember, quality over quantity, buy versatile pieces, accessorize with discretion, don't shy away from trends, shop the sales, try DIY projects, and stay informed. With a few simple steps, you can look sharp and stylish without going over budget.
How to Find the Perfect Fit for Your Body Type?
Men's fashion and style is not just about wearing the latest trends. It is also about finding the perfect fit that suits your body type. It takes some time and effort to find the right fit, but it's worth it in the end. Here are some tips on how to find the perfect fit for your body type.
Understand Your Body Type
The first step in finding the perfect fit for your body type is to understand what body type you have. Are you tall and slim, or are you short and stocky? Knowing your body type will help you find clothes that fit your shape. For example, if you are tall and slim, you should look for clothing with a slim fit and a longer length. If you are short and stocky, you should look for clothing with a more relaxed fit and a shorter length.
Choose the Right Fabrics
The fabric you choose can make or break the fit of your clothing. For example, if you are slim, you should choose lightweight fabrics such as linen and cotton, as they will drape better and flatter your frame. If you are stocky, you should choose heavier fabrics such as wool and tweed, as they will give you a more structured look.
Pay Attention to Detail
The devil is in the details when it comes to finding the perfect fit for your body type. Pay attention to the fit of the clothing, the length of the sleeves, and the rise of the trouser. Get the details right and you will be able to find the perfect fit for your body type.
Get Professional Help
If you are having trouble finding the perfect fit for your body type, consider getting professional help. A personal stylist or tailor can help you find the right fit and style for your body type. They can also offer advice on which fabrics and colors to choose, as well as which accessories will complete your look.
Finding the perfect fit for your body type can take some time and effort, but it is worth it in the end. By understanding your body type, choosing the right fabrics, paying attention to detail, and getting professional help, you can find the perfect fit for your body type.
How to Accessorize Your Outfit for a Stylish Look?
Looking stylish is not just about picking out the right clothes. It's also about accessorizing them to create an eye-catching look. Here's how to do it like a pro:
1. Choose the right shoes
When accessorizing your outfit, start with the shoes. Select a pair that will help bring out the colors and textures of your clothing. It should also be comfortable and appropriate for the occasion. For example, choose sneakers for a casual look and dress shoes for a more formal style.
2. Invest in a good belt
A well-chosen belt can take your look from ordinary to extraordinary. Choose a style that complements the color and texture of your outfit. Also, make sure it fits you properly – not too tight or too loose. This will help enhance your overall look.
3. Pick out the right jewelry
Jewelry is a great way to add a bit of sparkle to your outfit. Choose pieces that will draw attention to your face and enhance your overall look. Remember to keep it simple –too much jewelry can be overwhelming. Stick to a few essential pieces that you can mix and match.
4. Carry a stylish bag
A stylish bag is a must-have accessory for any fashionable man. Choose a bag that is both practical and stylish. It should be the right size and color to complement your outfit. Also, make sure it is comfortable to carry and has enough space to keep your essentials organized.
5. Finish off with a stylish hat
If you're looking for a way to add the finishing touch to your outfit, consider a stylish hat. Choose one that complements the style of your outfit and adds a bit of flair. This will help you create a look that is both stylish and unique.
By following these tips, you can easily accessorize your outfit for a stylish look. Invest in quality pieces that you can mix and match for different occasions. This will help you create a look that is both fashionable and timeless.
What are the Latest Men's Fashion Must-Haves?
Men's fashion is constantly changing and evolving, so it can be difficult to keep up with the latest must-haves. Fortunately, there are a few key items that every stylish man should own in order to stay on trend. Here are some of the latest men's fashion must-haves.
Tailored Suits and Blazers
A great tailored suit or blazer is the foundation of any stylish man's wardrobe. A perfectly fitted suit or blazer conveys sophistication and confidence and can take any outfit to the next level. Look for suits and blazers made with quality fabrics like wool, cashmere, and linen, and pay attention to the details such as lapel width and pocket placement.
Statement Accessories
Accessorizing is essential to complete any look. Statement accessories including hats, scarves, watches, and ties can add a touch of personality and help you stand out from the crowd. When selecting accessories, choose items that are classic yet modern and that complement your wardrobe. Don't be afraid to mix and match different styles and textures for a unique look.
Shoes that Make a Statement
Shoes can make or break an outfit, so it is important to invest in a few quality pairs. Classic loafers and Oxford shoes are always in style and can be dressed up or down. For a more casual look, opt for a pair of sneakers or boots to give your outfit a more laid-back feel. Don't forget to take care of your shoes with regular polishing and cleaning.
Casual Basics
Every stylish man needs a few casual basics in his wardrobe. Choose items like t-shirts, jeans, and hoodies that are comfortable and timeless. Look for quality fabrics like cotton and wool, and make sure the fit is just right. To give your casual wardrobe a modern edge, add a few statement pieces like a patterned shirt or bright colored hoodie.
Conclusion
Staying on trend with men's fashion can be a challenge, but with the right pieces in your wardrobe, you can look effortlessly stylish. Invest in some quality tailored suits and blazers, accessorize with statement pieces, choose shoes that make a statement, and stock up on casual basics. With these must-haves, you'll be ready for any occasion.